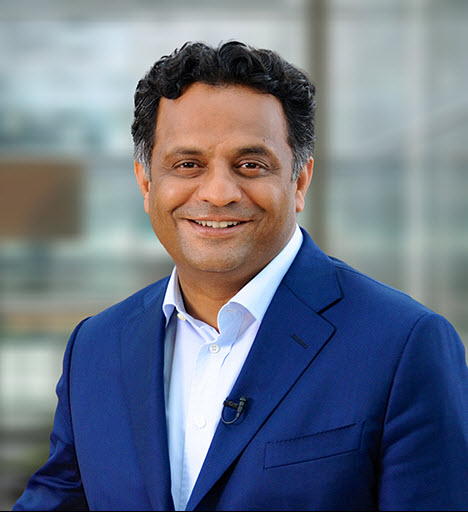 Leadership
---
Cultivating a Culture of High Curiosity
The bar is set high for Medical Affairs (MA) talent: traditional capabilities are no longer sufficient to address the rapidly changing healthcare landscape. Shreeram Aradhye, Global Head Medical Affairs and CMO for Novartis Pharmaceuticals, makes a compelling case for nurturing curiosity, an external focus and a growth mindset within the team culture in order to build a high-performing medical organization.
---
Curiosity is an attribute that helps organizations become high performers in today's highly disrupted environment. The business case for curiosity is compelling: it drives you to explore and learn more, become more knowledgeable about your industry and your customers, fuels innovation and creative problem-solving and heightens employee engagement, team performance, communication and collaboration. Moreover, a recent Harvard Business Review article written by Harvard Business School Professor Francesco Gino states that "maintaining a sense of wonder is crucial to creativity and innovation. The most effective leaders look for ways to nurture their employees' curiosity to fuel learning and discovery."
For Shreeram Aradhye, curiosity is a core strategic competency that needs to be deliberately fostered and reinforced to understand and address the holistic and systemic healthcare challenges that lie ahead. "External focus and curiosity are two fundamental attributes of the Novartis culture that we have been working on. To me, it's all about nurturing a growth mindset. In order to embed a culture of continuous learning, as a leader, I first need to be able to convey to the organization that we are not great because we know everything – but because we're always curious and recognize that we don't know everything. Secondly, it's critical to reward not just outcomes but also the effort and lessons learned. If something doesn't work out, let's focus on the learnings and move ahead."
---
It's also about modeling curiosity as a leader. "I am inherently curious about many things and make a point of sharing my curiosity and observations with the people around me. I believe that what distinguishes us as human beings is our desire to seek knowledge. There is always more to learn."
Leaders can help employees adopt a learning mindset by communicating the importance of learning and by rewarding people not just for their performance but for the learning needed to get there. "For me, curiosity and humility are at the heart of success as a leader. We should be humble enough to admit we don't and can't know everything. This is something that requires work and attention and is a continuing journey. I try to ask more open questions rather than making statements – often by using the simple phrase, 'Tell me more'."
Aradhye goes on to add that it's important that a company's performance management approach is set up to reward curiosity. "Like many other organizations, we are grappling with how to connect performance management and rewards for a learning mindset. Part of this is about making sure that every time we learn something different, we celebrate it in some way. I'm cognizant that it will take time to build this culture across a whole organization and each individual is different as they embark on this journey – which is something I want to be respectful of."
Innovation begins and ends with curious people
---
Medical Affairs is poised for a much broader, more strategic role with stakeholders' expectations outpacing the ability to recruit and develop talent. Aradhye is upfront about MA's pivotal role moving forward and the talent challenges emanating from this elevation in MA's significance. "You can look at Medical Affairs as a critical third pillar complementing R&D and commercial. I describe MA as the team that brings a peer-level understanding of the practice of medicine, in a real-world setting. I use the real-world context to distinguish it from the development team, which focuses on establishing benefit and risk in the controlled setting of clinical trials. The medical team has a key role to play in taking that transformative innovation and helping to bring it into routine clinical practice.
"To be successful in what we do, Medical Affairs needs to understand the physician journey in addition to the patient journey. The physician journey starts from the time they first learn about an innovation until they understand how to translate it into their regular clinical practice."
"To be successful in what we do, Medical Affairs needs to understand the physician journey in addition to the patient journey. The physician journey starts from the time they first learn about an innovation until they understand how to translate it into their regular clinical practice."
For Novartis Pharmaceuticals, key activities of the Medical Affairs team are:
Transparent interactions with healthcare professionals and organizations to understand their medical unmet needs.
Co-creating and executing high-quality and fit-for-purpose evidence-generation and dissemination plans that provide significant education to the medical community.
Helping patients in the real world by changing the practice of medicine and bringing breakthrough innovation into routine clinical practice.
The solution to the transformative changes that lie ahead is to create a "continuous learning curve" – one that encourages the company (and its leaders) to constantly challenge existing assumptions and try new things. "In order to be a high-performing Medical Affairs organization and deliver on these increasing demands, we must be externally focused and curious. Medical Affairs capabilities will include being open-minded, engaging, observing, and listening to both what is said and what is not said – and asking the right questions. It's only through that curiosity that we can truly understand medical practice and make a difference."
Effective partners inside and out
---
In the context of the MA organization, the traditional competencies that got us this far won't necessarily take us to the next level. "We're on the cusp of major disruption in healthcare based on advancing technology. I believe we will switch from a sole focus on disease to a prominent focus on health. The role of pharma is going to be important and we must recognize that we are just one part of the health ecosystem."
In this rapidly evolving healthcare landscape, the role of the medical team is becoming even more important. "We are going to need MA people who are able to focus on understanding what's
happening in a rapidly changing world across geographies and how transformative innovation can become accessible to benefit as many people as possible."
For Aradhye, the relationship with commercial and R&D is one in which each organization has key roles that are coordinated but distinct. "When one translates transformative innovation into clinical practice, it's important to ensure that we have R&D, medical and commercial organizations that work in a coordinated and compliant manner on distinct activities. Medical teams have a fundamental role to play in order to help increase people's understanding of how to safely and effectively use our drugs in the real world. "
"My vision is to make sure that this distinct, important and complementary role of the Medical Affairs team is recognized. At Novartis Pharmaceuticals it is especially important because we are in the privileged position of having multiple new medicines to introduce in the coming years."

For him, his role as leader is as 'Chief Energy Officer'. "We are in a people-centric business; it's about the people on the outside and the people on the inside, which means we need to relate to people in a way that leaves them in a state of positive energy.

"We are in a rapidly changing environment. It is going to be our people and our culture that ultimately allow us as a company to thrive. Innovation will only happen if we are able to support and empower our people. Innovation starts and ends with people."