From the Editor
---
Welcome to the third edition of Elevate – the Digital Health edition. Digital health really transects all points and all components of the value-based health care enterprise – the engine driving it forward. The industry's ultimate potential in tapping digital health to transform patient care hinges on embracing new shifts in culture and business strategy.
Succeeding in the digital health arena requires a different skill set than what has been traditional in pharma and healthcare settings. As the healthcare landscape evolves, pharmaceutical companies are being driven to embrace new, unique partnerships to create not just drugs, but holistic solutions. Scaling these solutions to meet the needs of entire healthcare systems is one of the great challenges for the future.
Managing population health relies on data and analytics to identify patients in need of care and predict disease progression, prognosis, the likelihood of hospital admission or an emergency department visit, and more, and ultimately allowing earlier intervention. While fresh ideas are critical, the creative thinking and culture that builds and sustains the infrastructure essential to innovation is often overlooked.
In the current value-conscious environment, senior leadership is looking increasingly to Medical Affairs. MSLs in particular are evolving from a complementary field role to an indispensable resource for helping determine clinical value. To be truly valuable, Medical Affairs needs to move beyond being simply a bridge to become a strategic value-driver, connecting the dots to bring creative, innovative above-brand solutions to the fore.
In "," CMO and Head of Medical Affairs & Pharmacovigilance at Bayer, Mike Devoy discusses Medical Affairs' unique understanding of how value can be created and delivered, and the key role it plays in developing the evidence and solutions around that value in collaboration with internal and external partners.
In "," Niko Andre, Head of Global Medical Affairs at Roche discusses the mindset behind successful digital collaborations and the future role of MA as a key value contributor across the life cycle.
In "" Dr Rajni Aneja, MIT Connection Science Fellow, discusses the need for Medical leaders to be strategists in the context of the digital health revolution and emphasizes the need to be comfortable with organizational transformation and leading change.
In "," John Singer, Global Head of Health Industry Strategy, Innovation and Technology at Wipro, elaborates on why Medical Affairs need to drive "big design" thinking to create value in the new outcomes-based healthcare world.
In "," Alex Butler, Founder of Foundry3 discusses why Medical is uniquely equipped to lead digital development.

In "," two tech experts Shafi Ahmed, Chief Medical Officer at Medical Realities and John Nosta, Founder of NostaLab, offer their vision for how digital will shape healthcare going forward.
This edition sees the launch of MAPS Elevate Poscast Series. In , we hear from three disparate voices - Host John Pracyk, Worldwide Integrated Leader,  DePuy Synthes is joined by John Singer, Global Head of Strategy, Innovation and Technology Health Business Unit at Wipro's Health Business Unit and Manish Bharara, Senior Manager, Global Clinical Affairs, Siemens Healthineers. The promise and potential of digital health is tantalisingly within grasp, yet illusive still when it comes to adoption at scale. Up for discussion: The current state of affairs; Role of data ownership; Scale or lack thereof; Innovation vs renovation?
Finally, in SELF: "" we decode self-awareness – the best approach to self-analysis to avoid being trapped looking in the rear-view mirror – and how to find and fix your blindspots.
We have strived to create an immersive content experience, filled with actionable insights, inspirational leadership and intelligent commentary, spurring Medical organizations to greater productivity and value creation.
Want to be part of the MAPS movement to elevate Medical Affairs? Then get in touch if you have a story to tell or are interested in advertising in an upcoming edition of Elevate.
For more information, or to share your thoughts/comments on this issue, please feel free to reach out to me at elevate@medicalaffairs.org
And, of course you can follow all the latest MAPS developments at www.medicalaffairs.org.
Deirdre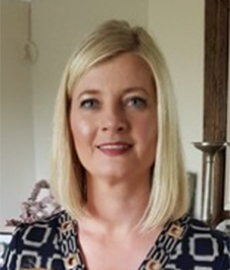 Elevate magazine is published by MAPS (The Medical Affairs Professional Society™). The views and opinions expressed in this magazine are those of the individual contributor and do not necessarily reflect the views of MAPS nor its members. The content in this magazine may not be copied, extracted or reproduced except with the publisher's written consent. Copyright © 2018 MAPS™. All rights reserved.

Contributors
Words by:
Deirdre Coleman
Nick de Cent
Danielle Barron
Edited by:
Travis Hege, Chief Operating Officer & Executive Director
Nick de Cent
Production & Design
Crystal Hays, Global Project Director
Kasia Uszczynska
Partnerships & Advertising
Frank Kudla, Director of Global Partnerships
For more information on advertising in Elevate visit MAPS Digital Media Kit or contact via email at elevate@medicalaffairs.org.