Dr Danie du Plessis on rebuilding trust with the patient and the new capabilities Medical will need to master to bring a full strategic perspective to the boardroom with patient interest at its core.
Rebuilding
Patient Trust
---
While the concept of patient centricity is not new, leveraging Medical Affairs to compile and channel information back to the R&D organization so that the patient perspective is embedded within the culture of the organization and integrated into decision making remains a challenge. Danie du Plessis, former SVP and Head of Worldwide Medical Affairs at GlaxoSmithKline, is aware that work remains to be done around distilling patient insights into actionable organizational intelligence.
"I see gathering and translating the patient perspective as being a core role for Medical, as custodians of the patient voice. I don't think it's done consistently in a systemized way at present," he tells Elevate.
Encouraging share-and-learn mode
---
Deriving actionable insights from patient engagement hinges on clear processes and systems to collate and synthesize insights from different regions and making use of these insights by collaborating across functions. "Having a single point of accountability is crucial so if there's a global medical head for a product, it's vital to get all insights to that person who will take ownership and ensure that it gets funnelled to where it needs to go."
He recommends sharing case studies of the impact delivered by these insights to further encourage this share-and-learn mentality and to reinforce the importance of integrating insights through tangible impact. "For example, highlighting the value of a patient advisory board on protocol design, post-trial communications, and so on; or recognizing and acknowledging teams, so that other teams can then start to follow. It's about communicating internally how we are using these insights so we reinforce the cycle of listening and sharing, so people see the tangible impact and are more inclined to bring forward those insights in a consistent way. We're still on that journey as an industry, but I feel that sometimes we can overcomplicate things—it's often a case of just do it!"
Rebuilding credibility with the new influencers – the patient

---
For du Plessis, overcoming patient skepticism and rebuilding trust is part of Medical's remit. "It's a sensitive area. Working with patient organizations to gather data in a manner that is compliant and sensitive to patient concerns for privacy is an essential element of MA's evolution. We need to do it the right way. Part of that is honesty around our intent. If we want to really improve things for patients, the patient organizations will feel this. If there's a hidden agenda of inappropriate promotion, they will feel that too. Part of that evolution for Medical Affairs is proximity to the patient, looking at the whole patient – that human aspect – and not being presumptive, overlaying our perspective on top of what we think patients mean. It's having that listening ear."
There is a huge opportunity to impact patients and commercial performance by engaging patients earlier, more deeply and more broadly in the design of healthcare experiences.
"It's a challenge: what does patient centricity mean, how does it impact the patient's day-to-day life, how do we measure it? How do we know if you're doing it well? And a lot of those questions, I have to say, are still unanswered. So, from my perspective, patient centricity is really about making sure that we put ourselves in the shoes of the patient and understand what is important to them, because it's more than just efficacy of a medicine. There's also the safety profile and the impact of co-morbidities on outcomes. We need to really think about the patient as an individual who has a life and all sorts of other things that's impacting them. So taking that broader perspective and leveraging the knowledge that social and personal determinants of health are key drivers, or barriers, to improved clinical outcomes. Understanding the human behind the patient is where Medical Affairs can really drive value."
Medical as a strategic partner
---
Medical will need to take ownership of a much more substantial part of the external stakeholder engagement spectrum. This new role will also require more collaboration between Medical and Commercial to deliver on a personalized approach.
For du Plessis, part of this transition will necessitate Medical becoming a better partner and another aspect will involve flexing Medical's influence. "What is important is the collaboration between Commercial and Medical – doing the right thing together for the business and the patient. It's also about taking ownership, co-leading and being able to influence and negotiate… actively thinking – this is really from a medical perspective – what we believe is the best based on insights, data, and so on. And if people on the marketing or sales side are resistant to that, then we need to actively inform and influence to make it happen. That is what a full-blown strategic partner would be, because good partners sometimes also have to say 'No, this is the better way' and demonstrate their rationale for this decision. And Medical shouldn't be scared to move into a much more strategic relationship within the company and influence the decision-making. But a big part of that influence necessitates the data to back up opinions and developing capabilities around influencing and negotiation."
Building new strengths
---
Medical Affairs leaders will need to do more in future with new capabilities related to customer engagement, personalization and data literacy, so they can improve the quality and efficiency of external engagement, demonstrate clinical and economic value to healthcare systems, and broaden their engagement with customers, specifically the patient.
"The environment is changing, so I think staying current and understanding how to use multiple channels to communicate and interact is definitely going to be something to be aware of. So that flexibility around technology, which includes digital obviously, the ability to do webinars potentially, which is hard if you don't have a live audience. So those I think will be more and more important. With that, I think is the agility to make quick decisions and to have simplified processes so that you can respond quickly," he adds.
Medical teams will need a greater breadth of knowledge and depth of skills over and above traditional capabilities in order to deliver on external expectations to demonstrate the additive value of specialty and complex medicine. Each stakeholder requires slightly different evidence or support – such as data, real-world evidence, proof of quality of care, "beyond the pill" services – and pharma companies are increasingly looking to their MA teams to gather the necessary evidence and share the information to each audience accordingly. "Blending scientific skills with business acumen, communication skills with deep scientific knowledge, and fluency around evidence generation and dissemination – it's a very broad skillset. Effective communication is becoming more and more critical, that ability to share data with different stakeholders, whether it's payers or regulators, but also to simplify the language so that patients can understand as well, as and when appropriate."
In order to be a strategic partner, Medical will need to become more commercially aware and hone their business "smarts" – understanding the numbers and the strategies, decisions and actions that impact those numbers. "Business acumen and how the pieces of the big picture of overall company operations fit together, and how to impact them will be vital going forward. Learning how to better understand key financial metrics and trends within healthcare while also being able to dissect key industry performance, trends, and pressures that customers/partners also face will be necessary. Medical leaders will need to be able to connect the Medical Affairs organization's strategies to the company and be cognizant of that bigger picture, all the while articulating the voice of the patient."
Collaboration skills will also be vital as Medical teams will need to work with experts inside and outside their organizations to build their knowledge of the complex science now underpinning drug development and the patient journey. They will need to engage with behavioral health researchers and health economists to understand and develop valuable insights into issues affecting population health. In addition, they will need to interact with external specialists to understand how new technologies and solutions might be integrated into a broader plan for improving patient outcomes.(1)
"It will be different for different-sized companies. But we can't possibly expect all medics to have all those skills. So, I probably see a future scenario where we might have groups who specialize in certain things. We may have hubs where the experts in technology sit, so that people can go there and say: 'This is what I need to happen; please help me do it.' One of the reasons I got involved with MAPS and why I sit on the Executive Leadership Committee specializing in capability development is being instrumental in the education of Medical Affairs professionals and helping shape the future of industry by ensuring its Medical people are future-ready. MAPS – that community of 130 companies from across industry – can really play a role in defining what Medical Affairs could and should be, in an industry-led environment."
Sources:1: The New Role of Medical Affairs in an Outcomes-Focused World, Accenture
---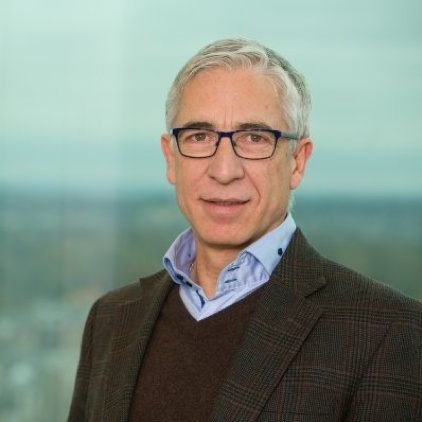 Danie du Plessis: Lessons in Leadership
---
Danie du Plessis, MD, MBA
Former Senior Vice President, Worldwide Medical Affairs
GlaxoSmithKline
Danie is a senior pharmaceutical executive with 25 years' experience mainly in Medical Affairs. He has a passion for modernizing Medical Affairs and a track record in leadership, people development, capability building and coaching. He is a member of MAPS Executive Leadership Committee and is heading up the Focus Area Working Group on capabilities/career.
Danie is a qualified MD with a Masters in Clinical Pharmacology who combines medical and life science qualifications with an MBA. Danie has extensive experience building international teams, driving change and working in regulated markets for GlaxoSmithKline (GSK) across Europe, the Americas, Middle East, Africa, Australasia and Japan.
He previously worked for Eli Lilly & Company for 17 years in different medical roles as well as marketing and sales. During his different roles, he was based in South Africa, United Kingdom and Australia. Before joining the Pharmaceutical Industry, Danie had his own primary care practice.