Resilient Leadership
Lessons From
Everest

Resilience – our ability to recover from setbacks, adapt well to change, and keep going in the face of adversity – is important to everyone, but a crucial component of effective leadership. Quoted in a 2002 Harvard Business Review article, Dean M. Becker, founder of resilience training company Adaptiv Learning Systems, sums up its significance: "More than education, more than experience, more than training, a person's level of resilience will determine who succeeds and who fails. That's true in the cancer ward; it's true in the Olympics; and it's true in the boardroom."
One individual who has undergone resilience training and tested it to the full is John Burke, Irish hotelier and founder of youth mental health charity, Elevate. We met recently in the plush surroundings of his Armada Hotel in County Clare, Ireland, where Burke shared the story of his epic journey to the summit of Mount Everest.
"I had to ensure I was mentally strong and well-equipped to confront the sizeable physical and mental challenges that lay ahead, from stepping over dead bodies to crossing a crevasse on an aluminium ladder, to mastering my fear of avalanches. Enlisting the help of a sports psychologist was a massive step for me and it was a probably the most important preparation I did for Everest."
Burke took the decision to invest in resilience training after returning from Ama Dablam in November 2016 – this is the peak that dominates the eastern sky for anyone trekking to Mount Everest Base Camp.
"The big lesson was I needed to be mentally stronger and better prepared for my journey the following May. The main peak there is 6,812m and the climb lasted a month. There were times that I was afraid, when my confidence really dipped, my mental strength was weakening, and my sleep was affected, and I was thinking about all the wrong things. I was fixating on avalanche risks."
"From Base Camp, you could look up and see people edging towards the summit and I was visualizing and focusing on the suffering they were going through each day. I was chatting to people who came down who had been unsuccessful, who were really sick and exhausted, and I was constantly taking on board their stories and all this negativity. It really affected my physical and mental strength. I knew that Everest was going to take two months at least and I had to make sure that I was mentally strong, that I was not going to be looking up and drawing my energy to anything else other than what I had to do right in front of me."
Physical preparation included a wide variety of training ranging from trail running, CrossFit, strength and conditioning, to yoga. "I did eight consecutive summits of Carrauntoohil (Ireland's highest peak at 1,038m) in 24 hours while carrying a 45kg pack."
Burke is in no doubt that despite the physical preparation, the mental preparation was the game-changer, and without it he would never have summited. "I had always acclimatized well, but on Everest, I acclimatized badly and, if I hadn't done that psychological preparation, I have no doubt that I would have failed on the mountain and persuaded myself, psychologically, that I was too sick, too weak, too tired to continue when I had plenty more in me."
"So, the sports psychology was the biggest part of it. The Sherpas out there said that your body will start giving your mind signals that it's tired when there's still 90% left in your body. You just have to keep pushing it past that. So, when you're tired, you start saying, 'I'm at 10%,' and then two hours later you say, 'I'm probably only 15% or 20%,' and five hours later you say, 'I'm at 30% now.' You could be absolutely wrecked, but you're still saying 'I've 70% left in my body.' I probably had about 10 or 12 mind techniques that were really powerful and worked really well for me and allowed me to overcome the challenges along the way. It was without doubt the most important part of my preparation. It was one that I only came to about six or eight weeks before I left, but it was the most valuable for me on the mountain."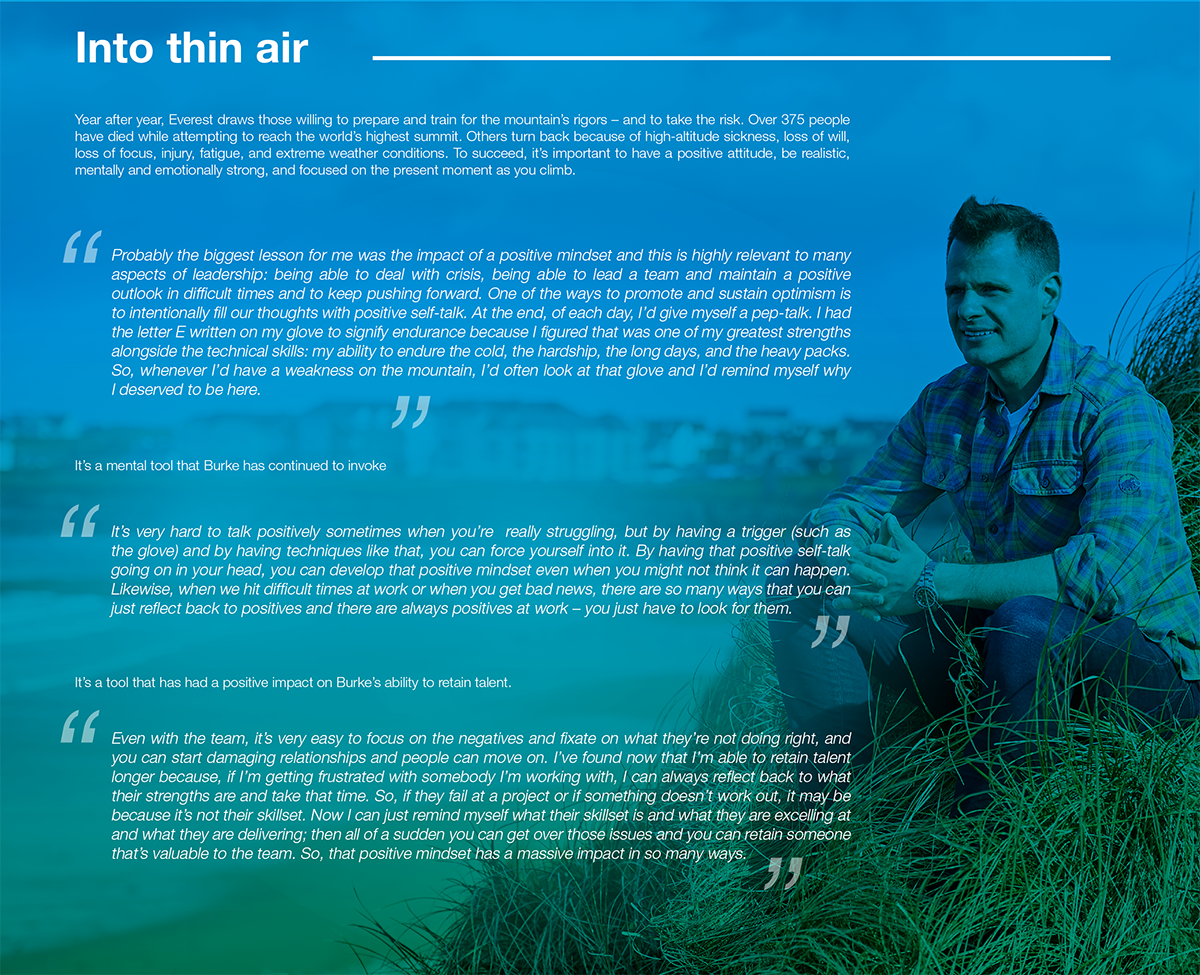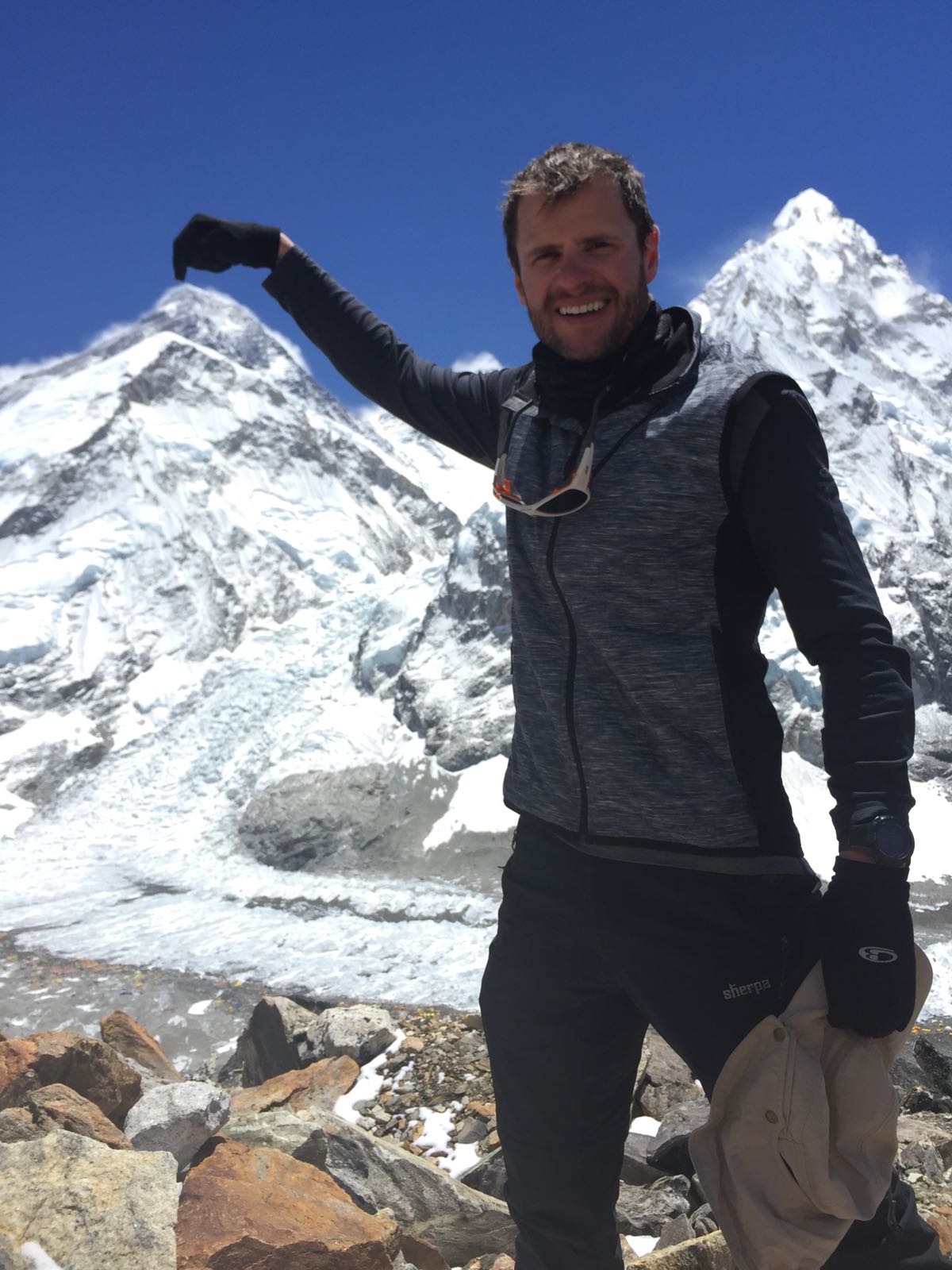 Positive reframing means trying to reconsider things in a positive light, and it is a powerful way to transform your thinking. To change the meaning of a situation by reinterpreting it in a more resourceful way was a tool that Burke used to help him along the hostile path to Everest's summit. "Through the hardest days, it was a matter of trying to take the positive out of every single day. I'd say: 'I'll embrace this hard day as it's strengthening my skills and developing me as a mountaineer.' This is something I've tried to integrate into my work life. I'll tell myself: 'This is developing me and preparing me for the next time I come up against this problem.'
"One of the hardest parts of altitude sickness is not being able to retain food and water. The positive I took out of that was that I was going to really earn my journey to Everest and was not going to get an easy pass. Just like the others who had found it hard and suffered yet prevailed, I too would find it hard but would make it to the top, as they had. You have to jettison those negative thoughts and get a new perspective in order to move forward in hope, no matter how dark the path ahead."
Being mentally prepared through scenario planning was also vital in order not to be overwhelmed, especially when energy started to wane. "Seeing a dead body on the trail was part of that preparation. You need to walk away from seeing a body feeling strong and not weakened by it, so anticipating these scenarios was key and preparing myself mentally by researching and watching YouTube videos to take the shock value away. I had to plan for every eventuality: how to cope when I couldn't eat, by using mantras or how I was going to deal with worrying about avalanches or seeing my team fail and how that would impact me. Preparation was crucial so I wasn't caught off guard and to ensure that I had a mental toolkit to draw on."
Part of Burke's motivation to climb Everest was the need to find balance is his working life. He took up mountaineering at 28 as a means to test himself physically and build up his fitness, as he was experiencing burnout. "I was three stone overweight 12 years ago and I had given up sport altogether. I was putting everything into work and was struggling to sleep and becoming increasingly anxious. My whole sense of identity was tied to work and I had zero balance. I started off running around the halls of the hotels at night as I was embarrassed by my lack of fitness. That progressed into finding a reprieve from the pressures of work in the hills of Connemara and Kerry."
He found that the impact of finding balance and spending time in nature was transformative. "You come back re-energized, with a clear head, and it made a huge impact on my mental health and wellbeing. It's not healthy to allow yourself to be defined solely by one component of your life. If I hadn't had that diversity of the mountains when the recession hit, I would have been absolutely destroyed with the doubt and uncertainty that was facing the business at that time. Spending time with family, being active, having a lot going on outside of work took a component of that pressure away – I wasn't just defined by work and work alone."
Another positive aspect was by removing that unrelenting pressure to be successful in business and being focused solely on work, it removed the overwhelming fear of failure. "Without that fear, you can approach things more rationally and less aggressively. I have been guilty at times of being totally consumed by work and it impacts negatively on your performance, your decision-making and your work relationships, as you're expecting far too much from people and pushing them to breaking point which is how you lose good people. There's only so much people can give in their day and you have to respect that they too need balance.
"Workplace wellness is a big part of our ethos now at the Armada Hotel and one thing the recession taught me was you have to protect your employees' wellbeing as they're fundamental to getting you through it. You have to invest in their wellness just as much as the financial health of the business."